The Compliance Journey in the Age of SaaS
How to kickstart the compliance journey for your SaaS business.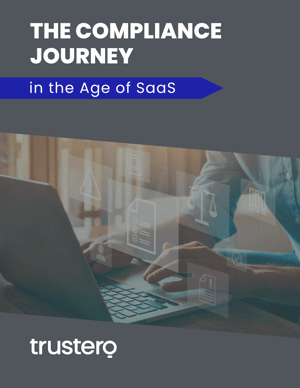 Download this eBook to learn how to kickstart the compliance journey for your SaaS business.
✅ Understand the basics of compliance
✅ Understand the most universal compliance frameworks: SOC 2 & ISO 27001
✅ Learn about the compliance journey
✅ Understand common compliance requirements different departments must address
Why is compliance critical to every SaaS business?
Meeting legal & regulatory requirements
Building reputation & trust,
Avoiding penalties and fines,
Cost savings
Creating a competitive advantage in the market.
You need to meet compliance requirements to close important deals. But getting to the finish line is hard. Worse, the path there is confusing and pulls you away from areas where you want to be focusing. Trustero combines modern UX, NLP, and APIs to let you use familiar SaaS technologies to handle as much of your compliance obligations as possible.
The Trustero platform manages your documents, provides AI-tailored templates to get you started, guides you through the process with directed dashboards, and keeps you informed with notifications and support.
Proven best practices for trust.
Understand what you're doing with compliance and get up and running now. Compliance requires policies that say what you'll do, controls that say how you'll do it, and procedures that spell out the details of implementation. Our in-house compliance experts have prepared documents to get you a solid start.
The Trustero platform is designed by SaaS veterans with more than two decades of experience making scalable and secure platforms you can count on.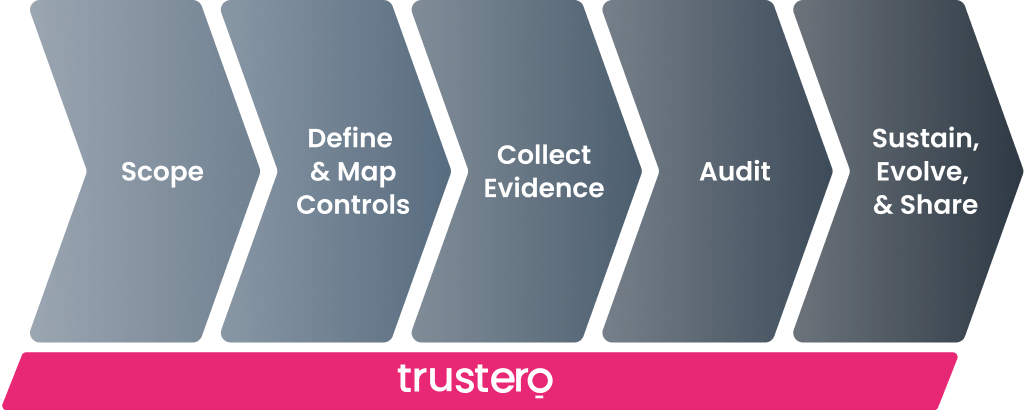 Compliance Assurance Solution:
Available for SOC 2 Type 2 or ISO 27001 frameworks
Compliance as a Service (CaaS) Platform:
Cloud-based Governance, Risk, and Compliance (GRC) platform
Quick start using auditor-vetted templates or import existing controls
Al recommendations tailored to you
Actionable control evidence, not just readiness testing
Onboarding Service & Support:
Dedicated project owner to guide you
GRC-certified practitioner guidance and oversight
Audit Examination and Report:
Complete examination and report by a certified, respected audit firm
Controls you can commit to
Trustero can provide the controls you need for this framework and the next. If you already have , upload them and the platform links them to policies and suggests evidence you'll need for your audit.
Streamlined, automated evidence
Configure receptors to access your cloud services via read-only API and they will grab exactly the evidence you need, excluding what you don't want, posting it to corresponding controls and keep it up to date.
Clear guidance fills the gaps
Natural Language Processing in the platform's backend deciphers difficult regulatory language and shows what other companies have used to satisfy requirements before.
One platform for all your compliance needs
Start with our minimal, most powerful control set or upload your own
Connect by API to automatically gather evidence from your systems
AI provides suggestions tailored to your needs at every step
Trustero supports you all the way to your accreditation report
Make compliance part of your tech stack
Rather than burning midnight oil to pass a single audit, Trustero makes compliance into clear and repeatable tasks. You'll be ready to face your next audit, next framework, and new regulations impacting your business. Don't just solve the problem once; get a platform that lets you solve it for good.